Josh Katzowitz and Andy Benoit resume their debate, with today's focus on running backs.

Andy Benoit's top five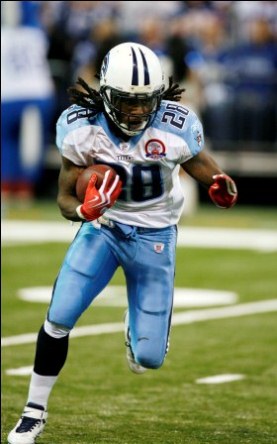 5. Maurice Jones-Drew, Jaguars

4. Ray Rice, Ravens

3. Steven Jackson, Rams

2. Adrian Peterson, Vikings

1. Chris Johnson, Titans

Maurice Jones-Drew and Ray Rice are both undersized but super powerful runners with breakaway speed. Both are dynamic in the open field. Both are good enough receivers to snag passes in full stride. And both are mean, mean blockers. Rice in particular is special – his running style reminds me of Emmitt Smith's only with more quickness.

Jackson would also make a Top 5 Players Screwed On A Bad Team list. I can't believe the Rams ran him into the ground in so many meaningless games last year.

Now to the Peterson-Johnson debate. First off, I'm not much of a numbers guy, but it's hard to overlook the fact that Johnson outrushed Peterson by 623 yards last season. 623! People think Johnson is simply a homerun threat, but the reality is, because he has unparalleled initial quickness and lateral agility, he creates space between the tackles and in short-yardage situations. Oh, also, Johnson rarely fumbles.

Josh Katzowitz's top five

5. Maurice Jones-Drew, Jaguars

4. Steven Jackson, Rams

3. Ray Rice, Ravens

2. Adrian Peterson, Vikings

1. Chris Johnson, Titans

Johnson is No. 1, end of discussion. OK, a little more discussion. I'm not saying Peterson is as good as Johnson, because he's not. But Peterson has been one of the best backs in the league for three years; Johnson only two. (OK, this is a bit flimsy.) But take away Peterson's fumbles, and the gap between the two shrinks. Also, if we're talking about numbers, Peterson had 532 more rushing yards than Johnson in 2008. Plus, Johnson isn't as good a blocker as Peterson. But yeah, no question, Johnson is No. 1 right now. If he misses part of training camp in his contract dispute, though, you have to wonder how that will affect him.

I like Rice just a little bit better than Jackson, simply because Rice is more productive in the pass game. Hell, his 78 catches last year tied for 19th among league leaders, ahead of Chad Ochocinco, Calvin Johnson and Donald Driver. You'd have to hope, at some point, that Jackson can get on a team with a chance to win something. The Rams teams for which he's played are a combined 28-68. Yet, Jackson is about 500 yards away from breaking Eric Dickerson's club rushing record.

Since our lists are so similar, we could do a top-eight again. Say, 6. Carolina's DeAngelo Williams (led the league in rushing touchdowns in 2008); 7. San Francisco's Frank Gore (a strong power runner who can break a tackle); and 8. Kansas City's Jamaal Charles (this one is a little premature, but he could be the next great running back with his speed, his field-reading ability and the way he continues to gain yards after first contact. I like him quite a bit).

Andy's rebuttal

I can't put Charles top 8 just yet. He's strictly an outside runner at this point. He racked up a lot of yards against bad run defenses late last season (143 against Buffalo, 154 against Cleveland and 259 against Denver). I don't want this to come across as me hating on the guy – I love Charles's acceleration and elusiveness – but I need to see a larger body of work.

My 6-8 looks like this: 6. Jonathan Stewart; 7. DeAngelo Williams; 8. Frank Gore. Stewart is a slightly more complete back than Williams. People think he's just a between-the-tackles bruiser, but he actually has outstanding lateral agility and tempo change. Williams is as shifty as they come. Gore, who has the toughness and valor of a gladiator, plays downhill as well as anyone in the game.

I actually did a top 10 running backs list a few months ago for other websites. I had Cedric Benson at 9 and Rashard Mendenhall at 10. I love both guys' initial burst. What surprised me is the amount of criticism I fielded for ignoring Ronnie Brown and Ricky Williams. I didn't understand the criticism at first, but after reviewing the Dolphins offense closer in recent weeks, I can see where people are coming from. Williams and Brown are consummate pros when it comes to patience and operating within the confines of a system. They're the best tandem in the game behind the Carolina guys. Agree/disagree?

Josh's final word

Yeah, I'd have to agree. I've been racking my brain trying to come up with a tandem that's better than Williams and Brown – aside from Williams and Stewart, of course – and I can't. I could see maybe Buffalo's Fred Jackson and C.J. Spiller entering that conversation after this year – you'd have to include Marshawn Lynch if he's still around, I guess – but other than that, I've got nothing.



Other positions: Safety | Cornerback | 3-4 Scheme Outside Linebacker | Punter | Kicker | 4-3 Scheme Outside Linebacker | Inside Linebacker | Defensive Tackle | Defensive End | Offensive Tackle | Center | Offensive Guard | Tight End | Wide Receiver)

--Josh Katzowitz and Andy Benoit

For more NFL news, rumors and analysis, follow @cbssportsnfl on Twitter.