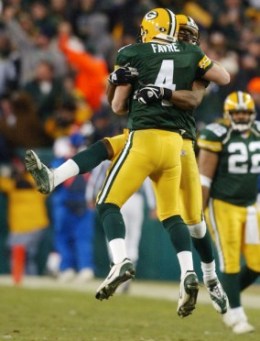 Posted by Josh Katzowitz
The scenario Will
told you about the other day
– the
Vikings
possibly signing
Brett Favre
's old buddy (but not really), WR Javon Walker – seems to be on the verge of occurring.
According to
ESPN.com
, the Vikings plan to sign Walker, an eight-year veteran who's spent the past two seasons in Oakland. Or, more accurately, has spent the past two seasons disappearing in Oakland.
Walker had his best success – an 89-catch, 1,482-yard, 12-touchdown year that resulted in Walker's only Pro Bowl berth – when he was catching passes from Favre in Green Bay during the 2004 season.
But the next year, he held out during training camp. A move that did not sit well with Favre.
"If Javon wants to know what the quarterback thinks, and I would think he might, I'd tell him he's going about this the wrong way," Favre said at the time. "When his agent tells him not to worry about what his teammates think and all that stuff, I'd tell him I've been around a long time and that stuff will come back to haunt you."
Walker suffered a bad knee injury in Week 1, and the next season, he found himself in Denver. He had a good season there in 2006 (69 catches, 1,084 yards, eight TDs), but since then, Walker has been a shell of his former self, combining for 41 catches and one score in the past three seasons.
I imagine Walker – who said a few months ago he'd be willing to play for the veterans minimum salary – would welcome a chance to play with Favre again, considering he's been a non-factor four of the past five years he's played. Besides, six of Favre's targets caught 25 passes or more from him last season.
Don't expect Walker (shown at right during happier times with Favre) to hang around too long, though. Right now, the Vikings receiving room is pretty bare without
Percy Harvin
(migraines) and
Sidney Rice
(hip). Assuming they return, though, Favre most likely will be throwing to receivers with whom he actually gets along.
And Walker most likely will have to contemplate retirement.
For more NFL news, rumors and analysis, follow @cbssportsnfl on Twitter and subscribe to our RSS Feed .