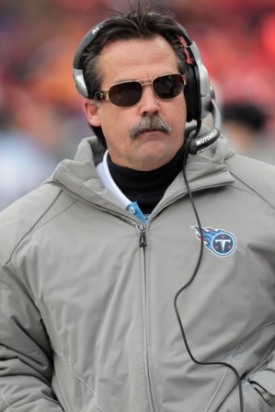 Posted by Josh Katzowitz
In a move that's had the NFL buzzing - so many questions: why now, what's next, how did this happen? - Jeff Fisher has coached his last game for the
Titans
.
The move is awfully surprising because owner Bud Adams essentially chose Fisher over troubled QB
Vince Young
in a showdown of the loser-must-leave-town following Tennessee's 6-10 season. But according to
SI.com's Don Banks,
who broke the story, Fisher was troubled that he had to fire defensive coordinator and close friend Chuck Cecil while very well-respected defensive line coach Jim Washburn left for Philadelphia.
UPDATED (6:51 p.m.):
Though Fisher's team was going to have to play well in the final year of his contract in order for him to save his job, he's been the respected Titans coach since 1994 when the club was known as the Houston Oilers. Since then, Fisher's squads earned a 142-120 record with a combined six postseason berths, four division titles and a Super Bowl XXXIV appearance.
Plus, he had a Hall of Fame mustache and, most likely, he will have a few choices for head coaching spots after next season. Although some on Twitter have already begun to wonder if Fisher could be a candidate for the open
Eagles
defensive coordinator spot, that seems like a bit of a stretch at this point (though perhaps Washburn being there might be a positive).
But now the Fisher era in Tennessee is over. So, where will the Titans go for their next head coach? And for that matter, will Adams want Young to return?
As for the second question, it wouldn't be a huge shock (certainly not as shocking as THIS news). Young is still only 27, and though his practice habits and work ethic have been questioned – as well as his attitude – he still could be a solid QB in the NFL for the next few seasons. Give him a coach with whom he can connect – that was a vital missing component in his relationship with Fisher – and maybe Young could be a top-10 guy in the league.
Plus, you know, Adams seems to have a soft spot for Young.
And I can't leave without passing along this quote from Adams, courtesy of the
Tennessean's
Jim Wyatt:
"Where did you hear that? I better check on that. I can't talk about it now … I really can't talk about it now because I don't know what's been said. I want to see what is going on."
UPDATED (9:00 p.m.):
The Titans and Fisher have released statements.
Statement from the Titans:
"We will be forever appreciative of Jeff Fisher's leadership and accomplishments through his time with our franchise. We reached some of our greatest heights and experienced some unforgettable moments during his tenure.
"After the season was complete, we had numerous discussions on the direction of the team and were pleased that we were moving forward with Jeff at the helm. Since that time, it became evident that consensus was increasingly hard to find and reality wasn't matching the vision we discussed. It is unfortunate that this decision is coming at this juncture, but we believe that we have reached the point where change is in the best interest of both parties.
"We will start the head coaching search tomorrow. We expect to talk to a broad and diverse group of candidates. We are confident the coaching pool still has a number of quality candidates that can lead our football team."
Statement from Fisher:
"I want to thank Mr. Adams and the organization for a special 17 years. I can't thank the fans enough for the support they showed us through the years; it has been a tremendous experience. We all did our very best and I think I can look back with fond memories and be very proud of what we accomplished. I want to wish the organization, the current players and the fans nothing but the best in the future."
For more NFL news, rumors and analysis, follow @cbssportsnfl on Twitter and subscribe to our RSS Feed .