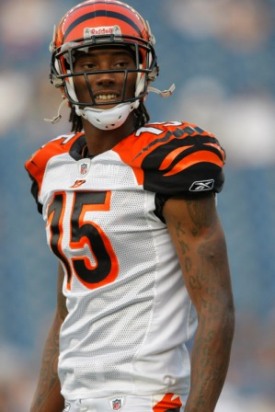 Posted by Josh Katzowitz
If you watch one thing before you go to bed tonight – or if you already saw it on the NFL Today this afternoon and want to rewatch it again Friday morning – check out
this amazingly bittersweet story
on
Chris Henry
, Henry's mother and the people (and their families) who were given the gift of Henry's organs after he died.
Believe me, it'll make the room real dusty.
It's hard to believe it's been nearly a year since Henry died after falling off the back of a moving pickup truck. Those of us who knew and covered Henry couldn't have been shocked (he'd been in so much trouble that a death at an early age wasn't an altogether unlikely scenario), but we were all saddened by the news. In the last year of his life, he had tried so hard to prove to his
Bengals
teammates and coaches, to Bengals fans, to himself that he was a changed man.
Here's an excerpt of what I wrote after I heard the news:
RIO GRANDE, Puerto Rico – It was the week after he broke his arm and a couple days after the Bengals placed him on Injured Reserve. We spotted Chris Henry, arm in a cast, in the locker room, and about four of us reporters walked over to his corner locker to see how things were going.

We asked fairly innocuous questions – did you know the arm was broken immediately; how frustrating is this injury when it comes at a time like this; do you want to be back in a Bengals uniform next year? Like usual, Henry was soft-spoken and pleasant. He wasn't a great talker – you might have to combine two or three answers together to get a three-line quote for the story – but he was usually agreeable. For a pro athlete, much of the time, that's all for which you can hope.

But then, just as we were wrapping up an interview that was probably 2 or 3 minutes long, one reporter asked something like this, "Eh, Chris, some people would say that since you're not going to be around the team on a day-to-day basis, you might fall back into your old ways. What do you think?"

… The reporter's question – some people are saying you might screw up again – caught Henry off guard.

"Who's saying that?" he asked.

"Eh, uh, I guess I am," the reporter said.

I don't remember the answer Henry gave, but it was something along the lines of, "Don't worry about me. I've changed. I'll be just fine."

That exchange from last month was the first thing I thought about when I saw online that Henry had fallen off the back of a pick-up truck during a domestic argument and was in bad shape. Then I thought: if he hadn't suffered his broken arm, Henry would still be with the Bengals. He wouldn't have been in Charlotte arguing with his fiancée. He wouldn't have jumped onto the back of a pickup truck shirtless and the cast still on his healing arm. He wouldn't have reportedly threatened suicide. He wouldn't have fallen off. He wouldn't have died.

Coach Marvin Lewis called Henry a "beacon of hope." I'm not sure I agree with those exact words. But here's what I believe – Henry finally realized he had to make changes and that he was trying to turn his life around. Trying really hard. He was trying to be the best father and the best domestic partner he could be. He made a bad decision during an argument with a loved one, and it cost him his life. The way he died doesn't make him a bad man. The year leading up to his death showed who he truly was trying to become.

Sadly, we'll never know the end result. And that's a shame. He could have really had something to say.
Turns out his mother has something to say as well: enhance somebody else's life. Be an organ donor.
For more NFL news, rumors and analysis, follow @cbssportsnfl on Twitter and subscribe to our RSS Feed .