Posted by Andy Benoit

In this week's 10 Stories That Deserve Your Attention, we focused on how LaDainian Tomlinson appears to be handling a much heavier load than expected for the Jets. This is supposed to be Shonn Greene's backfield. Well, the man Tomlinson essentially replaced, Thomas Jones, is doing the same thing in Kansas City. Jones carried the ball 22 times against the Browns Sunday (83 yards). Jamaal Charles, who is coming off the bench, had 11 carries (49 yards).
Third-round rookie tight end Tony Moeaki led the Chiefs with five catches for 58 yards.
Ndamukong Sun flashed dominance for the second week in a row. Suh recorded a sack against Michael Vick (he may have gotten away with a facemask on the play) and consistently pushed the interior pocket.
How about these rushing statistics for the Cowboys: Marion Barber 11 carries for 31 yards; Felix Jones 7 carries for 7 yards; Tashard Choice 1 carry for -1 yard. Somehow, you can't help but think this is Tony Romo's fault.
Trent Edwards was 11/18 for 102 yards and two picks against the Packers. When Marshawn Lynch ran for 14 yards to end the first quarter, that brought Buffalo's net yardage on the day back to zero.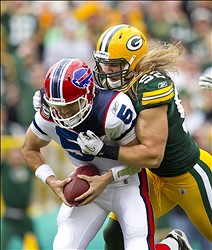 Jermichael Finley has his second career 100-yard game. Expect at least five more this season for the best tight end in the NFC.
Should we just go ahead and vote for the NFL Defensive Player of the Year Award now? Packers linebacker Clay Matthews had three sacks for the second week in a row. This for a guy who sat out virtually the entire preseason with a hamstring injury.
Actually, we'd better not crown Matthews yet. Mario Williams followed his stellar Week 1 performance with a shimmering outing against the Redskins. Williams recorded three sacks, two tackles for a loss and two pass deflections. It's safe to say the Texans probably don't win that game without him.
Adrian Peterson rushed for 145 yards on 28 carries against a fairly-staunch Dolphins D. There wasn't a cheap yard in the bunch. Peterson put on an absolute show late in the second half, showing his familiar powerful burst and uncanny change-of-direction prowess. However, his show came to an abrupt end on the second to last drive, when the Dolphins kept him out of the end zone on four-straight plays from inside the 10.
Chris Johnson had his streak of 100-yard games snapped at 12 by a Steelers D that has given up just one 100-yard rushing performance in its last 36 outings. Johnson managed just 34 yards on 16 carries. He had an 85-yard touchdown called back because of a Eugene Amano holding penalty (even with nose tackle Casey Hampton out, the Titans center had a rough afternoon).
A week after his impressive return to the NFL, Seahawks wideout Mike Williams had just one catch for seven yards against the Broncos.
Wes Welker and Randy Moss were both held to 38 yards receiving.
The Chargers held Maurice Jones-Drew to 31 yards on 12 carries. Rashad Jennings actually got nine carries, producing 38 yards.
Philip Rivers 334 yards, 3 touchdowns, 2 interceptions and an unofficial 3 screams at his offensive linemen against the Jaguars.
Shawne Merriman got on the field for the first time all season and recorded three tackles.
Tim Hightower was the lone bright spot for the Cardinals. With Beanie Wells still out with a knee injury, the third-year running back carried the entire load Sunday. Hightower rushed for 115 yards on 11 carries, including an 80-yard touchdown scamper in which he showed newfound quickness and acceleration.

For more NFL news, rumors and analysis, follow @cbssportsnfl on Twitter and subscribe to our RSS Feed .