Posted by Eric Angevine
Announcers have trouble telling the Morris brothers apart in the heat of game action. The brothers have similar abilities, similar jersey numbers, and only the small designation Mk. or Mc. on the back of the jersey for clarification. Kansas fans long ago gave up on using first names, and refer to the twins from Philadelphia as simply "the Morii" in casual conversation.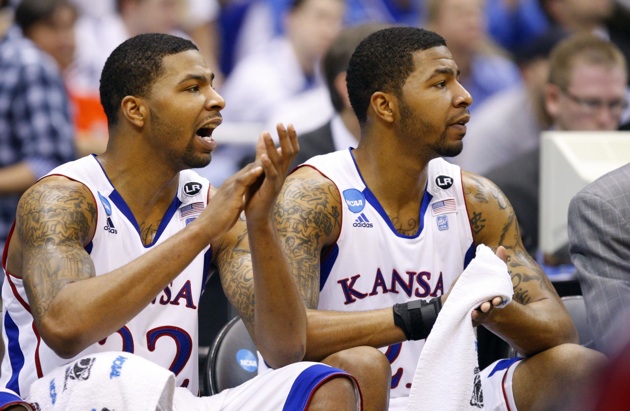 Some twins bristle at the notion that outsiders can't tell them apart, but not the Morrii. The more the legend of Marcus grows -- as it did following his 33-point show in keeping
Kansas undefeated
last night -- the more he wants to drag his brother into the limelight with him. "I personally think there will be games
Kieff can get 30 and Selby can get 30
," Marcus told Gary Bedore of the Lawrence Journal-World. "I had an on-night tonight. There's other players on my team who can do it, too."
It's not that Marcus lacks confidence. More that he seems to understand, perhaps better than a non-twin can, how much his own success is intertwined with that of the man standing next to him. Marcus and Markieff have always had that preternatural ability to bring out the best in one another, but it's becoming more and more obvious that the 'family' tag applies to the entire Kansas team these days. When Bill Self benched the brothers and started sophomore Thomas Robinson for a handful of games, the motivational ploy worked. There seems to be no bitterness between the three men who ply the frontcourt for the Jayhawks, regardless of who's starting. The backcourt situation is even more crowded, but nobody has complained publicly (
way to go, Tyshawn
!) about playing time. It's almost as if the entire team has adopted the Motto of the Morii: F.O.E.
The acronym is etched on the twins' biceps in indelible ink. It stands for Family Over Everything. "It means family first," Markieff told Joe Davis of Jayhawk Tip-Off. "With my family, we've been through thick and thin. That's who's by my side all the time, so that's what I preach."
The definition of family includes Sean Evans of St. John's and Lamar Trice of Mount St. Mary's, as well as a few other non-DI hoopsters who grew up in Philly with the Morrii, each of whom has the same tat. The Jayhawks are a relatively ink-free group, but it's easy to imagine that the family label is metaphorically stamped on everyone from superstar-in-waiting Josh Selby to benchwarming walk-on Jordan Juenemann. With Bill Self as patriarch and Danny Manning as the cool uncle, this KU team has forged a bond that has allowed for smooth sailing despite some big bumps in the road.
Think about how tough it must be to integrate a new scoring point guard after a third of the season has already been played. Imagine the jittery feelings that must surround something like Mario Little's suspension and reinstatement. Picture, if you can,
what it takes to go undefeated
through all that, while your school is
hiring a new AD
in the midst of scandal. Doubt any part of the Kansas gameplan you wish -- Self loves to keep his guys humble -- but don't question their team concept. It's rock solid.
Those of us who get paid to punditize will try to break down a team's prospects six ways from Sunday. We can examine personnel, coaching, strategy and tactics, etcetera. That ineffable thing called chemistry is the toughest to root out, however, and it plays such a huge role. It's not just 'does everyone get along'; there's also 'who's on the floor in crunch time?', 'how do they respond to adversity?' and 'how do they act when coach isn't around?' The best beat reporters can sometimes ferret out those types of details by virtue of proximity and persistence, but the rest of us must fill in the blanks based on on-court performance, for the most part.
From a distance, this KU team looks like a band of brothers, led by a pair of actual brothers. It's the sort of invisible bond that can be seen briefly when Michigan forces overtime, or when Hilton Coliseum is roaring and jumping for
The Mayor
the way it did when the great
Johnny Orr
patrolled the sidelines over a decade ago.
If Kansas is on a Final Four path, as it seems to be at this early date, credit the extra mojo to those three letters: F.O.E.
Photo: AP