Posted by Jeff Borzello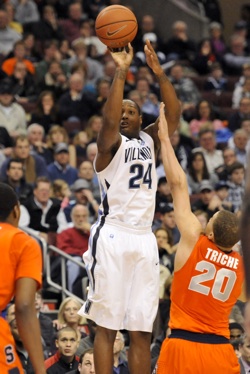 Although the main news in the basketball world on Monday was the trade of Carmelo Anthony to the New York Knicks, we here at Eye on College Basketball don't dabble in the professional game. On the college hardwood, there were a couple of big games and some other noteworthy results. As always, contact me @jeffborzello
Top Performer: With Tyshawn Taylor out for Kansas against a desperate Oklahoma State team, forward Marcus Morris stepped up with 27 points and five rebounds to lead the Jayhawks to a 92-65 win. He shot 9-for-13 from the field and even knocked down three 3-pointers. Two of his shots from behind the arc came during a decisive stretch in the first half in which Oklahoma State also went six minutes without a field goal.
Stat-Sheet Stuffer: Andrew Goudelock gets all the attention for Charleston, but it was Antwaine Wiggins who stole the show Monday night. Wiggins shot 10-for-13 from the field, knocking down four 3-pointers, and finished with 24 points, nine rebounds and four assists in a 75-49 win over Samford. With the win, Charleston clinched the Southern Conference regular-season title.
In a Losing Effort: In his first game back after missing three contests with a turf toe injury, Villanova guard Corey Stokes hit five 3-pointers and finished with 24 points in a 69-64 home loss to Syracuse. The devastating loss – for double-bye purposes, at least – was certainly not Stokes' fault, as the rest of the Wildcats shot 0-for-21 from behind the arc. For Syracuse, Scoop Jardine led the charge with 20 points and six assists.
Filling it up: Potentially the biggest winner on Monday was Butler, which now has a great shot at getting a double-bye in the Horizon League tournament after Green Bay defeated Valparaiso in overtime, 81-80. Green Bay's Alec Brown went for 22 points and 12 rebounds, leading the Phoenix to their first win since January 30.
Set the DVR: There are several interesting games on the docket tonight. Illinois travels to Ohio State in a game that would certainly enhance its at-large hopes. The Buckeyes are looking to bounce back after their second loss in three games. In the SEC, Tennessee will look to lock up a bid and get to above .500 in the SEC with a road trip at Vanderbilt. The biggest bubble battle of them all will be Michigan State at Minnesota – the loser is in serious trouble.
Numbers Don't Lie:
Villanova's five 3-pointers – all by Corey Stokes – on 26 attempts were the fewest the Wildcats made when shooting at least 25 3-pointers since they went 5-for-26 at West Virginia on Jan. 3, 2007.
Villanova also shot below 65 percent from the free-throw line in two straight games for the first time since Jan. 10 and Jan. 19, 2009.
Moreover, the aforementioned two-game stretch was the first time 'Nova shot below 65 percent on 25 free-throw attempts in both games since March 7 and 8, 2001.
Notes and Notables:
In the SWAC, Texas Southern knocked off contender Mississippi Valley State to improve to 13-1 in the league. The Tigers now have a three-game lead on Jackson State with four games left.
Photo: US Presswire