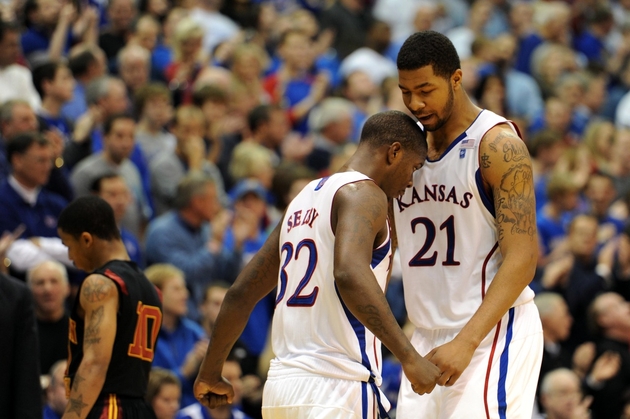 Posted by Eric Angevine

If the Kansas Jayhawks do not wish to add to their litany of postseason failures, Bill Self must address the emotional maturity of his team, and he must do it now.
Last night's road loss to Kansas State showed once again that this team lacks emotional resilience. I'll let Lawrence Journal-World columnist Tom Keegan describe the scene:
It's the threat of a recurring, self-defeating trait resurfacing at another inopportune time, the annoying sub-plot of an otherwise successful season, that could undermine KU's attempt to get to Houston, site of the Final Four.

That, of course, would be the penchant for one of the Morris twins to act impulsively and get whistled for an intentional foul. It didn't hurt his team when Markieff Morris got called for one against Missouri's Justin Safford. Against K-State, Markieff's arm made contact with Jacob Pullen's face, which didn't slow the senior guard from Chicago enough to keep him from torching KU with 38 points.

By that point in the game, Markieff's twin, Marcus, had been whistled for two fouls. Markieff's second foul, the intentional one, gave him a seat next to his brother.
The tendency for KU's big men to react poorly under difficult circumstances first showed itself in a win at Cal on December 22. Marcus Morris was ejected from the game for throwing a flagrant elbow at the head of a pesky Golden Bears defender. Since then, his brother has done the same, and younger players like Josh Selby have shown similar issues with emotional restraint. By allowing personal anger to overwhelm their desire for team success, the Morris twins are showing that they do not have what it takes to lead a Final Four team.
KU does have seniors, but they're a motley crew. Tyrel Reed and Brady Morningstar are sleepy-eyed Kansans who don't seem to have the force of personality or the on-court talent to corral this group of touchy malcontents. Mario Little is a redshirt transfer who sat out several games due to an arrest on charges of battery and criminal damage. Not exactly a sterling role model.
The juniors are at the heart of this team. Marcus and Markieff Morris, along with Tyshawn Taylor, are the starters that KU's offensive and defensive schemes are built around. Their various emotional meltdowns over the past few seasons have shown that neither of the three has the internal makeup to take this team to late March.
There comes a time in every young person's life -- typically some time in the mid-twenties -- when he realizes that what's "fair" has very little to do with success. In fact, it will be the teams that are able to push through blown calls, chippy opponents and mental and physical exhaustion who will end up in Houston in late March.
Ohio State phenom Jared Sullinger has said that he was spit on following an emotional road loss to Wisconsin. Does anyone now doubt that a full-scale brawl would erupt had something similar happened to a Jayhawk in the Octagon of Doom? That looks like a freshman showing the emotional restraint and leadership this group of Kansas upperclassmen needs to learn and teach to the younger players.
Is anyone in Allen Field House listening? The clock is ticking on this season. If this emotional undercurrent keeps bubbling to the surface, expect yet another too-early postseason exit for another supremely talented KU team.